Minecraft is a game that allows you to build everything you can imagine. This is a port of the PC game, with smart modifications to make it run smoothly on phones and tablets.
Gameplay 10/10
Gameplay in Minecraft is so simple it's brilliant. To look around or change the direction you're facing, you should tap on the screen. In the lower-left corner, you get a directional pad with a button for jumping and arrow keys.
To place a block, simply choose a material and tap on the screen. To destroy it, tap and hold your finger down. A circle will appear, and when it fills up, the block will disappear. At the bottom of the screen, you will find three buttons that let you select materials. Another button gives you access to building materials, ladders, doors and water.
Graphics 9/10
Minecraft's graphics look good (especially if you like its retro style) and render smoothly. The world isn't as big as on the PC, and you'll reach borders quickly. Settings are very basic, but you can switch to a virtual d-pad and invert the Y-axis, if you wish.
The controls feel tight and a bit irresponsive. It can be frustrating trying to place blocks and balance a tablet at the same time. The first-person interface is still amazing, and the camera angle mimics that of a PC edition. Besides, performance is flawless on the latest phones.
Multiplayer Functionality 7/10
Users can allow other players on the same network to join the game. You can create your dream building together with your friends or destroy each other's houses. The multiplayer function is buggy but brings lots of fun and is worth the price of the game. Still, even on the latest phones, it has a short draw distance. All you can see beyond a certain point is dense fog.
Lasting Appeal 10/10
Minecraft is utterly entertaining and highly enjoyable. It promotes creativity and encourages thinking outside of the box. Thanks to its sandbox environment, there are almost no limits within the game. The ability to create your own world with your own rules is appealing to millions of players.
Summary
Almost anyone can find something to do in Minecraft. It's frequently updated, and all updates come free of charge. These factors create an appealing game for players who want to create something new every day.
Pros:
Open-world game in your pocket
Multiplayer is fun
Unlimited creative potential
Active development team.
Cons:
Short draw distances
Can be buggy.
How much storage do you need?
Average app size in this category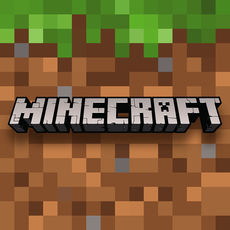 Minecraft
Take a note. This app's size is bigger than the average in this category