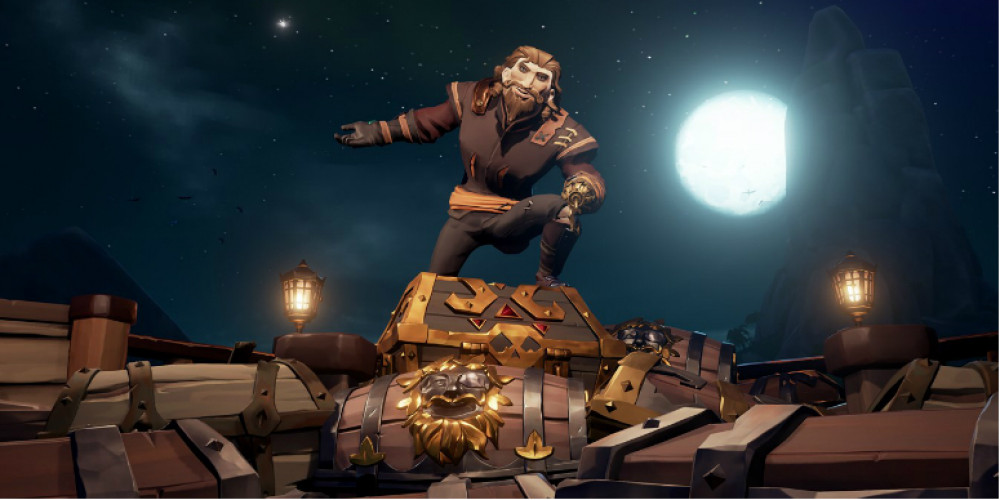 Top 10 Game Pass Titles of 2021
Xbox Game Pass has become a Netflix for video games. It's one of the cheapest ways to play AAA video games these days. For a low $10 monthly fee, you can try over a hundred top titles right on your Xbox One or Xbox One X in 4K. We decided to select the most exciting titles to help you make a choice faster without getting lost in the library. The list of the Game Pass titles changes over time, so stay connected to catch up with the updates!
1. The Outer Worlds
When The Outer Worlds was first announced, everyone expected it to be a Fallout in space. Well, there are really quite a lot of common features! Moreover, Obsidian is the studio behind the hit DLC Fallout: New Vegas. However, it has a load of original features to bring you a completely different first-person RPG experience.
The narrative of The Outer Worlds includes a load of hilarious stories that revolve around dark sides of the corporate culture and greediness of clerks. The storyline is wrapped into streamlined gameplay that never feels boring due to an awesome combination of FPS action and exploration. It's a great Fallout alternative for sci-fi fans!
2. Gears 5
Gears 5 is a long-awaited competitive shooter set in the legendary Gears of War universe. This 3rd person action lets you experience breathtaking combat that involves shooting from dozens of powerful sci-fi guns and tactical use of covers. Gears 5 is the Gears of War from our dreams. It unites sparkling humor with detailed dialogues, open-world elements, and exciting RPG-style side quests. It's also the first game in the series with a female protagonist, which is a timely change. You must try this game if you like dynamic TPS games with ultimate visuals and immersive story.
3. Life is Strange 2
If graphics and action are not the main criteria for the games you play, Life is Strange 2 may catch you with a tangled best-selling-novel-quality story. You play 16-year-old Sean and 9-year-old Daniel Diaz, whose father gets shot by an insidious cop. The younger brother discovers that he has some supernatural powers that let him punish the killer. The rest of the plot unveils during 3 long episodes. In the style of the thrilling action drama series, the ending of each episode makes you hang on the edge of your seat and wish to see more!
4. Batman: Arkham Night
Batman: Arkham Night isn't a perfect game about the favorite DC character, but it's definitely worth attention, while it's available for such a low price. Rocksteady Studios are the first to recreate an open-world Gotham City and make it free for exploration. It's pretty exciting to roam around, fighting minions and a bunch of new and good old supervillains. Developers mixed excellent platform puzzles, cooperative combat, racing and battling on a Batmobile, and exquisite plot twists. As a result, you won't get bored on your way to the ending.
5. Sea of Thieves
If you're into the pirate theme and don't mind about historical credibility, you may enjoy exploring the fable universe of Sea of Thieves. The game evolved from an improvised virtual chat-room for the pirate theme fans into a huge adventure game with dozens of island to explore, exciting puzzle-based quests, PVP battles, and many more stuff to do. It's impossible to compare Sea of Thieves to any other game. It's just the one and only in the self-established genre.
6. Quantum Break
Do you like HBO series? Or maybe you enjoy third-person tactical action with supernatural powers and heavy rifles? Quantum Break will impress you then! This game was one of the most discussed projects from 2013 to 2016 and remained one of the best Xbox One titles. It's a unique game with firm Remedy's flavors, such as ultimate attention to detail, photorealistic environment, and novel-style narrative.
All the choices you make during the game change the scenes of the TV-show that you watch between the playable episodes. If you seek an unusual action experience, you will not regret trying it.
7. The Witcher 3: Wild Hunt
If you are planning a vacation for the next month and don't know what to do, The Witcher 3: Wild Hunt will take all your time. It's the latest installment in the legendary Polish game series about the daredevil mutant monster-hunter Geralt of Rivia. The entire gameplay takes over 100 hours of incredibly immersive RPG quests, which break all RPG stereotypes. There are no boring fillers at all! Every main and side quest are made with the same amount of love to detail and good storytelling so that you will wish to get into more and more encounters. Toss a coin to your witcher!
8. Forza Horizon 4
Forza Horizon 4 is the supreme creation of Turn 10 Studios and one of the best racing games in history. The perfect balance between arcade gameplay mechanics and realism make this racing sim the most immersive of all to this day. Hundreds of vehicles, all types of terrains, and ultimate visuals are at your service!
9. Dishonored 2
Dishonored 2 soaked all the best features from the first chapter and made the gameplay even catchier. The action takes place in an even more detailed city of Karnaca, and you take control of Corvo's daughter, Emily, who has an entirely new set of superpowers. The game is recommended to fans of Bioshock Infinite, the original Dishonored, steampunk-fi, and gorgeous vocal soundtracks.
10. Halo: The Master Chief Collection
This one is a permanent resident of the Game Pass library. However, if you still haven't played this legendary series, you can do it right away. The 100MB bundle includes all Halo games that will bring you a load of nostalgic feeling along with superb shooting experience.
Your Lucky Day
As you can see, Xbox Game Pass is full of legendary-level titles, including top hits of the last 3 years. All of them are still worth your attention this year. Besides, it's a good chance to kill time before hot upcoming Spring releases. Which of the games from our list would you like to download right now? Reply in the comments and share the list with friends who have an Xbox One too!